Model of Care
The Diabetes service for the Vale of York aims to deliver an integrated seamless service for people with diabetes. Primary care, community and hospital teams work closely together to deliver a continuously improving high quality service.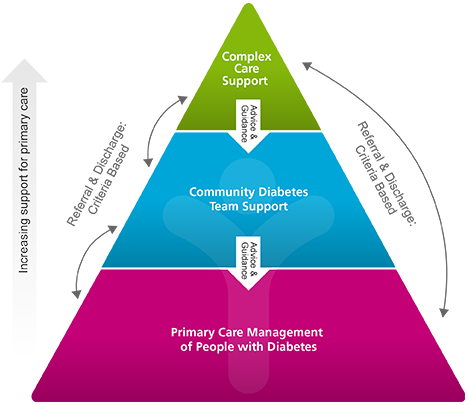 Everyone with diabetes has their annual complication screens, initial care plans and interim reviews with their primary care teams in their GP surgeries. For those with more complex needs requiring 'Level 2' care (see Model of Care pyramid), your primary care team has easy access to advice from the Community Diabetes Team comprising of diabetes specialist nurses, consultants and diabetes dietitians.
On occasions you may have contact with members of the community diabetes team by telephone, in your GP surgery or in a community clinic.
For those with complex diabetes requiring 'Level 3' care (see Model of Care pyramid), you will still have your complication screens in your GP surgery and will also see the specialist diabetes team in the hospital setting on a regular basis until everything is well controlled and can be taken care of in your GP surgery with the support of the community diabetes team.
An individual may need care at different levels at different times and with this service you will be able to access the most appropriate level of care in the most appropriate setting according to your need at that time. Your care will also be supported by information via the website, patient forum and education sessions within the community and hospital.