Structured Education
All people with diabetes, either recently diagnosed or those with pre existing diabetes, should receive the education and support they need to enable them to manage their own diabetes. Education should be structured, ongoing, and consistent, up to date and most importantly person centered.
The York Diabetes service offers 3 structured education programmes to support the educational needs of people with diabetes.
Good2GO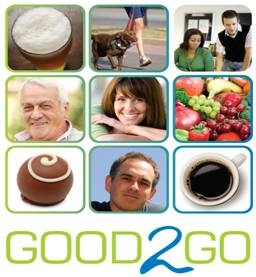 The York Diabetes service offers Good2GO, a structured one day training programme that fits all the criteria recommended for people with diabetes, to support their understanding and answer some of the questions around how to live a healthy active and normal life with diabetes.
The programme is for people with type 2 diabetes either recently diagnosed or for those who just want to make sense of all the different advice about diet, medication and healthy living.
The programme is run in small groups of up to 10 people and is delivered in an informal and relaxed way. There is no lecturing or preaching, just honest expert advice.
Its run by specialists based in the Diabetes Centre in York, but is delivered in a number of venues around the York district.
Referral to the programme is through your GP or practice nurse, who will refer you to the next available session -  so see them soon to book your session.
BITES
With BITES there is no lecturing or preaching, just honest, expert advice.  Often attendees share their own experiences and discoveries with each other.
This is a  three day programme specifically designed for people with Type 1 diabetes. It has been designed to support you in your decision making about carbohydrate counting and insulin dose adjustment to enable you to keep blood glucose levels under control. The aim is to help you work towards your personal diabetes related goals so you may lead as normal a life as possible while controlling your blood glucose levels, therefore reducing the risk of long term complications relating to diabetes.
The programme is delivered and run by York Diabetes Team.
For referral see your GP or practice nurse or if you are under the care of the hospital specialist team.
Insulin Skills

Insulin skills is a 3 hour programme designed for people with diabetes who are treated with twice daily insulin.
The aim of the course is to increase your confidence and skills in adjusting your own insulin enabling you to get the most out of your treatment.
It is run and delivered by York Diabetes team; the programme will answer the questions on how to live a healthy active normal life whilst still feeling in control of your diabetes.
For any further information regarding any of the structured education programmes mentioned: Please contact the Diabetes Centre at York Hospital Tel 01904 726510